CAPS Calendar
07/10 - Summer Season games
07/10 - Extra Innings at Capitol City Brewing Company, 4001 Campbell Ave, Arlington, VA
07/16 (Sat) - Week 1 makeup games, Watkins Park
07/16 - Extra Innings at Nellie's Sports Bar
07/17 - Summer Season games
07/17 - Extra Innings at Nellie's Sports Bar
07/24 - Women's Division Summer Season Games
07/31 - Summer Season games
07/31 - Extra Innings at Town Danceboutique Patio, Washington, DC
08/07 - Cal Steinmetz Memorial End-of-Season Tournament, Watkins Park, Upper Marlboro, MD
Want to stay current on CAPS news & announcements? 
Signup for our email list!
Summer Season
We play on Sundays from May through July at Watkins Regional Park in Upper Marlboro, MD.  There are Women's B & C and Open B, C, & D Divisions.

Forgot your login info?  Email capssoftball@gmail.com.
Fall Season
We play on Saturdays beginning after Labor Day in September and October.  There are competitive and recreational divisions, and possibly a women's division.  Online registration usually begins in August, so check back for more info.
About CAPS
The Chesapeake & Potomac Softball League (CAPS) is a non-profit organization founded in 1983 to establish a friendly place for gay, lesbian, bisexual, and transgendered (GLBT) people in the greater Washington/Baltimore metropolitan areas to play softball, learn and/or enhance softball skills and meet new people.  
Our league offers two divisions.  Our Open Division, a member of the North American Gay Amateur Athletic Alliance (NAGAAA), is made up of co-ed teams placed in divisions based on skill level.  Our Women's Division, a member of the Amateur Sports Alliance of North America (ASANA), is made up of women-only teams.
In addition to our affiliations with NAGAAA and ASANA, CAPS is a proud and active member of Team DC.  Team DC promotes LGBT individual and team sports participation.  Our league follows the Amateur Softball Association (ASA) rules of play!
Thank you to everyone who participated in CAPS'
Check out the results!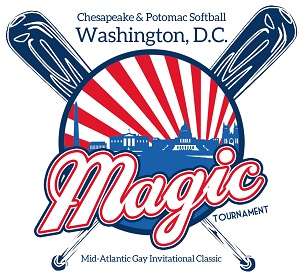 We're excited to announce that the Start Talking. Stop HIV. www.facebook.com/starttalkinghiv campaign is a sponsor of this year's MAGIC Tournament! Check out the campaign's free resources and help spread the word in DC about the importance of talking about HIV testing, condoms, #PrEP, and if you are living with HIV, getting and staying in treatment.
Also, check out the Start Talking. Stop HIV. campaign's animated #PrEP video from this year's sponsor of the MAGIC Tournament for an introduction to PrEP and help you decide if it's the right choice for you. @talkHIV #StartTalkingHIV